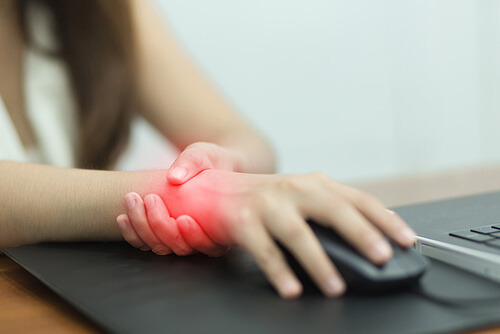 Carpal tunnel syndrome, sometimes referred to as median nerve compression, is a medical condition that arises when a number of health anomalies and activities put too much pressure on the median nerve as it is passing through the carpal tunnel of your wrist. This undue pressure leads to medical symptoms like numbness and tingling in the hand and arm. Ordinary carpal tunnel symptoms usually just afflict the hand and sometimes the forearm, but those symptoms can spread on up to the shoulder and cause pain elsewhere.
If you notice pain or numbness in your hand, wrist, or forearm that is painful enough to keep you up at night, you might want to visit a specialist and get a diagnosis of carpal tunnel syndrome. If you just feel occasional numbness or tingling, like your hand, is falling asleep, you might not have carpel tunnel syndrome. Still, if it happens frequently enough, you should visit a doctor to rule out other causes. Let's go over a list of the top ten symptoms of carpal tunnel. You might recognize some of them in yourself. If so, maybe set up an appointment with a specialist to see if you have it or not.
1. Numbness or Tingling
You may feel a slight numbness or tingling in your hands or fingertips. Your pinky finger is usually the only finger unaffected by this sensation. You might feel something like an electric shock in these fingers, which can be quite strange if you've never felt it before. These symptoms usually present themselves where you're holding on to an object – like a newspaper, phone, pencil, kitchen knife, or steering wheel. The sensation can even startle you and wake you from your sleep. People's first reaction is to shake their hands and try to get the feeling to abate.