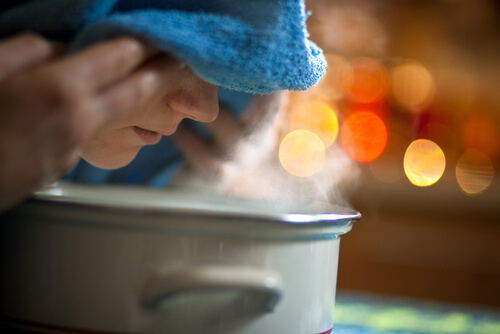 Does your nose constantly feel stuffy and blowing it doesn't seem to help? Are you experiencing pain or pressure in your cheeks, around your eyes, or in your forehead? Has your sense of taste or smell diminished? If you answered 'yes' to any of these questions, you may be suffering from a sinus infection.
A sinus infection, medically referred to as 'sinusitis' is a condition that causes the tissues that line the sinuses to become swollen or inflamed. The sinuses are hallow cavities located throughout the skull. They are lined with mucosa, a soft, pink tissue. Other than a thin layer of mucus, when they are healthy, the sinuses are empty. However, they can become blocked with fluid, which can allow germs to grow, causing an infection.
There are several conditions that can cause a sinus infection, including the common cold, a deviated septum, and allergic rhinitis (the swelling of the lining of the nose.) No matter what the cause of a sinus infection, one thing is certain: it can cause discomfort. Symptoms range from a stuffy and/or runny nose, a sore throat, and a headache. The headache can become so severe that it could be confused with a migraine.
If you're suffering from a sinus infection, there's no doubt that you want fast relief. While prescription medications can do the trick, if you prefer a natural approach, here are 16 remedies that ease your discomfort.
1. Steam
One of the most annoying problems associate with a sinus infection is a stuffy nose. Steam can be a highly effective way to unclog the nose; plus, it's easy. All you have to do is boil a pot of water. Remove the pot from the stove and place it on a flat surface. Position your face above the pot and drape a towel over your head. Take deep breathes through your nose to inhale the steam. The heat of the steam can break up the mucus clogging your sinuses, and it could also kill the bacterium that is causing the infection.