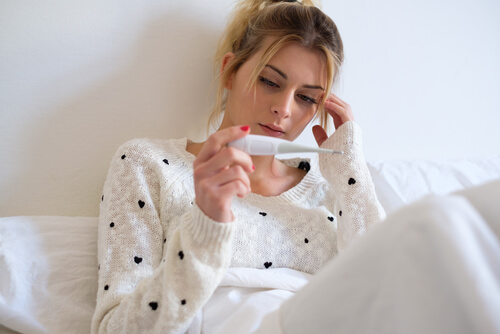 The term sepsis describes a very serious type of infection that usually enters the body through a recent open wound. Anyone with an open and currently healing injury can be susceptible to developing sepsis in the wound – and it's common after recent injuries have been improperly cleaned during the healing phase, or infection has been allowed to develop within the wound.
Sometimes sepsis happens through visible outer wounds, although sometimes sepsis develops within an internal wound (commonly a surgical one) with only a few outward signs that can include ones like fever and nausea with no other signs that you would be associated with an open wound – and this can make sepsis hard to diagnose until the proper tests and scans have been done.
Sepsis is commonly a condition contracted at home, but sometimes also in hospitals, especially where the proper wound-cleaning procedure wasn't followed.
Here are 14 signs of sepsis that you should look for.

1. Fever
A fever or rising body temperature is usually one of the first signs that something is wrong. When someone develops a higher body temperature, it's the body's immune system drumming up the fever in response to something else, which is commonly an infection somewhere in the body that needs to be treated. 
Fevers that last for longer than a few hours at a time without "breaking" to a normal temperature should always warrant immediate medical attention. Most of the home remedies recommended for bringing down a fever are dangerous – cold water is one of the most commonly attempted remedies for a fever that do more harm than they can good.
Paracetamol should be the default first emergency treatment for a fever, and the only one that's administered at home. If paracetamol doesn't work to control the symptoms within a few hours, seek medical attention for further treatment to find the cause.