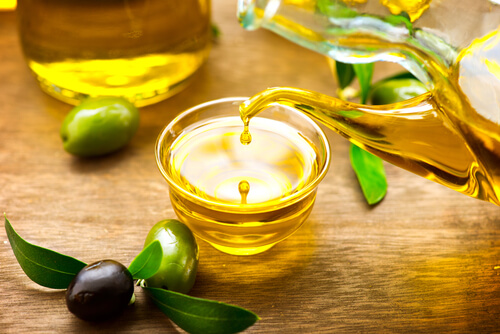 3. Olive oil is a natural remedy found in the grocery store that can remove ear wax.
When you purchase olive oil, make sure it's pure and doesn't have other ingredients in it. Olive oil can soften ear wax. Olive oil is good that it has been reported that it has strong bacteria properties. So, you don't have to worry about getting bacteria in the ears. Since olive oil is thick, you only need a few drops and a cotton ball.
Lie down on your bed or sofa, but make sure the ear you are treating is facing the ceiling. Soak the cotton ball in the olive oil. Pour several drops of the oil in the ear. Put a towel over the ear, so that the oil doesn't get everywhere when you sit up.
Once you sit up, tilt your head towards the floor. This should soften the ear wax. If it doesn't you can do this daily for no more than one to two weeks.