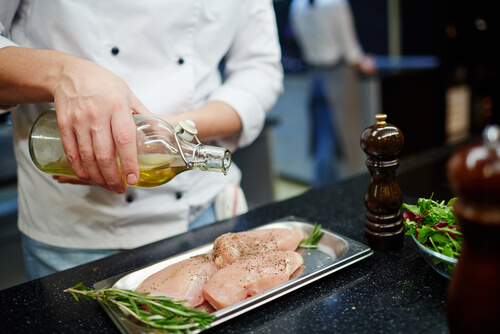 Have you been feeling more bloated than a sponge that has been soaking in a bucket of water for a week lately? Do you feel like the world is spinning when you stand up or when you change positions while you're lying or sitting down? Have you noticed that you are sweating more than usual, even though it's not hot outside, or you aren't doing anything you would consider strenuous? If so, your sodium levels may be too high.
Sodium is an essential mineral. It's produced by the body and it is also found in a lot of foods and food additives. It is important because it helps to balance fluid levels in the body, prevents dehydration, regulates blood pressure and helps to keep the muscles working properly. It's also the nutrient that is used in the transmission of nerve impulses. However, while sodium plays an important role in your health, too much isn't a good thing; in fact, it's a bad thing.
High sodium levels can cause some serious health complications, including high blood pressure, and an increased risk of heart disease, kidney disease and stroke. It's easy for sodium levels to reach dangerous levels. Why? – Because sodium is found in salt, which is an ingredient that is found in so many different types of foods. Not only do you sprinkle it onto your food and use it as an ingredient to add flavor to dishes. Even when you don't add it to your food yourself, there's still a good chance that you are consuming salt. That's because it is often used as an additive in various types of food. It helps to retain moisture, enhance flavors of other ingredients, can mask off-putting flavors, and is even used to cure meat.
For the average person, experts recommending sodium intake to 1,500 mg a day, but no more than 2,400 mg a day; however, most people have much higher levels of sodium than that; it's estimated that on average, a person consumes more than five teaspoons of salt every day, which is about 20 times the amount of sodium your body needs!
Whether you suspect you have high sodium levels, or your doctor has told you that your levels are high, don't panic. There are ways that you can lower your sodium levels. While medication is certainly an option, the easiest way to keep your sodium levels in check is to make sure you are eating foods that are low in sodium.
Wondering what type of foods are low in sodium? Here are 20 options to check out.
1. Lean chicken breast
A 3 ounce serving of lean chicken breast has about 44 mg of sodium in it. If you are going to flavor it, either skip salt and flavorings that contain salt, or try to use as little salt as possible. There are a variety of ways that you can enjoy chicken: bake it or grill it for a tasty main dish; add it to stir fry (but watch the salt you add to the dish!), or use it in casseroles or other low-sodium dishes.