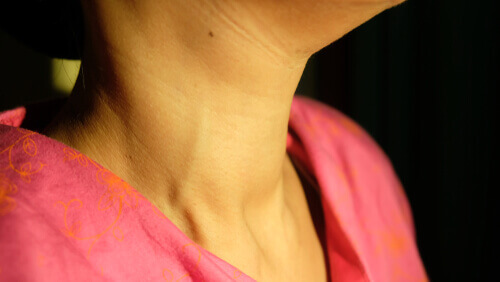 Our body uses a number of different minerals for a variety of purposes. Iodine is among them, and its function in our body is very specific. It is a fundamental component of our thyroid hormones, which help regulate our metabolism. In other words, these hormones control the chemical processes and transformations that happen inside every single cell of our bodies, every second of our lives, and determine how we function.
As you can see, a deficiency of iodine can have devastating effects on our health. Of course, those effects will depend on how important our deficiency is, but even a mild deficiency can affect our health. Iodine is present in many aliments, especially seafood and certain salts. When we don't take enough iodine, we can develop a series of health problems, the 10 most common of which are listed below. If you have some of these symptoms you should consult a nutritionist and/or endocrinologist.
1. Goiter
A goiter is the signature sign of a moderate to severe deficiency in iodine. It is an enlargement of the tissue beneath the skin of the throat, which grows in size and becomes more and more noticeable over time. The anatomic cause of the goiter is an increase in the size of the thyroid, a gland located in our throats which produces hormones that regulate the metabolism of our bodies, such as tyramine and tyrosine.
Since iodine is a fundamental component of these hormones, a deficiency in said mineral will affect our thyroid function. In order to compensate for the lack of iodine, our thyroid will work harder and as a result, will grow larger in size. This change is dysfunctional and can cause breathing or eating problems if it is too severe, because an enlarged thyroid can obstruct our airways or make it more difficult to swallow.