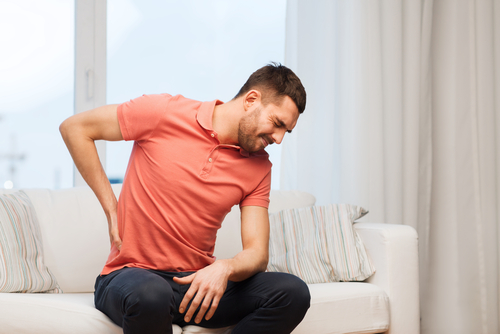 3. Spondylosis Affects the Lower Back
This degenerative spinal condition is also known as spinal osteoarthritis. Lumbar spondylosis affects the five small vertebrae at the bottom of the spine. Office workers and people that sit for extended periods may suffer from this condition due to weak lower back posture. This degenerative condition affects people over 40-years of age.
Natural aging is the most common reason for the development of lumbar spondylosis. The first signs of the condition are stiffness or pain in the lower back. Lumbar spondylosis progresses over time, wearing away the cartilage between the vertebrae. Eventually, the loss of cartilage and thinning discs expose nerve roots resulting in lower back pain.
Nerve inflammation creates lower back pain and feelings of numbness or lameness in the legs. It requires regular treatment through stretching and manipulation to reduce symptoms and slow progression of the condition. If left unmanaged, lumbar spondylosis reduces mobility in the lower limbs and spreads to the thoracic spine.