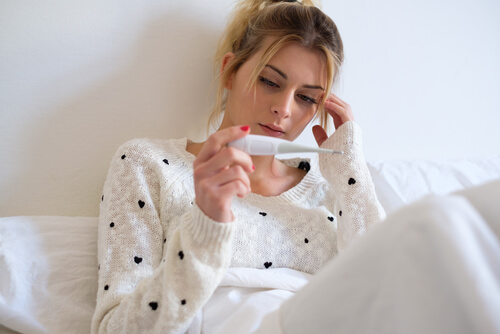 2. Low Fever
As the bacteria spread throughout the sinus and respiratory tract, your body will turn up the heat to fight off the infection. Exogenous pyrogens from the bacteria elevate the production of endogenous pyrogens. These pyrogens, known as Interleukin-1 (IL-1,) affect the sinus and airways. The hypothalamus responds by raising the body's temperature set-point. This increase results in a fever.
Once again, most adults don't see this as anything more than the onset of a bout of flu. You've most likely dealt with managing symptoms of the flu before. Therefore, you're more likely to self-medicate than visit the doctor's office.
There is conflicting medical opinion on whether to treat a fever or let it run its course. An increase in body temperature is a means of fighting an infection. Therefore, attempts to reduce it may assist with the spread of the bacteria. However, medical consensus suggests that reducing the fever is the best route to follow. Infected individuals may treat it with aspirin. This strategy reduces the symptoms but furthers the spread of the bacteria in the respiratory system.