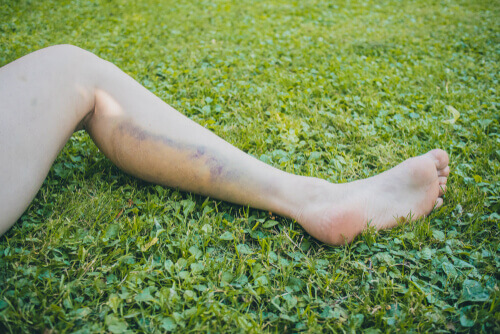 Cirrhosis refers to scarring of the liver that occurs as a response to the damage of this organ. The liver is the only visceral organ that has the ability to regenerate itself, which means that every time it is damaged, it attempts to repair itself. During the regeneration process, scar tissue forms. The more scar tissue present, the greater the risk of cirrhosis. Eventually, the presence of too much scar tissue prevents the liver from functioning properly.
There are several reasons why cirrhosis of the liver can develop, including:
Nonalcoholic fatty liver disease
Chronic alcohol use
Chronic hepatitis B or C
Cystic fibrosis
Cirrhosis can lead to several complications which can ultimately lead to liver failure and death. There are several signs that are associated with cirrhosis of the liver. It's important to be aware of these signs so that proper medical treatment can be administered.
1. Easy bleeding and bruising
As cirrhosis progresses, the scar tissue in the liver also progresses. The more scar tissue within the liver, the less the liver is able to function properly. The liver is responsible for completing several vital functions. One of the jobs of this organ is creating proteins that are necessary for blood clotting. As the scar tissue advances, the liver may not be able to produce those blood clotting proteins. As a result, you may end up experiencing easy bruising and bleeding.
For example, a slight bump can cause the development of a massive bruise or a shaving knick can cause severe bleeding. There are several other conditions that can cause easy bleeding and bruising. Some autoimmune diseases, such as idiopathic thrombocytopenic purpura (ITP), a condition that impacts platelet formation, causes bleeding and bruising. Any condition that causes easy bleeding and bruising requires immediate medical care.