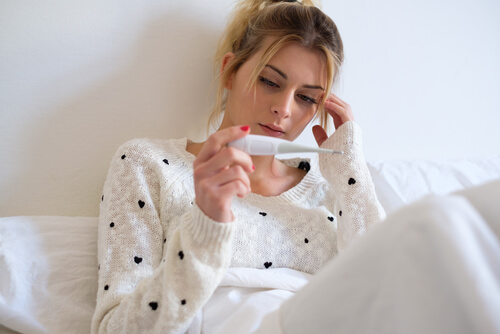 2. Fever
A fever can be a sign of many types of illnesses. If you develop a fever and also have pain in the abdominal area, you may have a problem with your gallbladder. When a gallstone becomes trapped in the neck of the gallbladder it can cause the gallbladder to become inflamed. This inflammation can result in a disease called cholecystitis.
The inflammation that occurs is caused by the bile building up in the gallbladder. This inflammation is what may cause a fever to develop as the body is trying to fight off the infection that has developed. It is important to note that when cholecystitis is left untreated it can lead to serious and sometimes life-threatening complications. This includes the gallbladder possibly rupturing.
If you develop a fever and it is accompanied by any of the other symptoms on this list, it is important to get checked by your doctor right away. Often times cholecystitis can lead to the gallbladder needing to be removed.