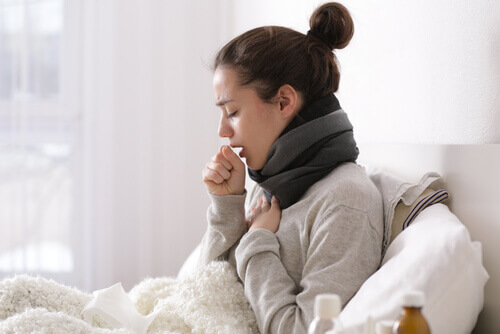 Hemoptysis is the medical term used to describe coughing up blood from the respiratory tract. Hemoptysis is almost always a sign of an underlying respiratory condition, but not in every case. Unless a medical practitioner rules out the possibility of a serious disorder, coughing up blood should always be treated with suspicion. The severity of the condition can be determined by the amount of blood coughed up and the duration in which blood was coughed up.
There exists a pretty straightforward diagnosis process for hemoptysis that includes among others, examining the patient's history and administering a physical exam, conducting a chest x-ray to determine whether there is a physical injury to the chest, a CT scan for detailed imagery of the chest, and bronchoscopy. These tests will help the doctor arrive at conclusive diagnostics regarding the condition. Here are 14 possible reasons for coughing up blood from the respiratory tract;
1. Acute of Chronic Bronchitis
Bronchitis is believed to be the most common cause of hemoptysis. It refers to the inflammation of the delicate linings of the bronchial tubes carrying air to and from the lungs. The condition is commonly referred to as chest cold. Acute bronchitis stems from a viral respiratory condition, and although it spreads easily through kissing, direct skin contact, touching contaminated surfaces and airborne respiratory droplets, the condition usually heals on its own.  
Bronchitis merely causes discomfort but is never too severe to cause alarm, well except in very rare cases. It can also be triggered by exposure to smoke, bacteria, or chemical irritants among others. The common symptoms of bronchitis include coughing blood, fatigue, chest pressure, difficulty sleeping, runny nose, and sore throat among others. Although bronchitis tends to go away after a few days or weeks when symptoms persist it is important to seek medical treatment.