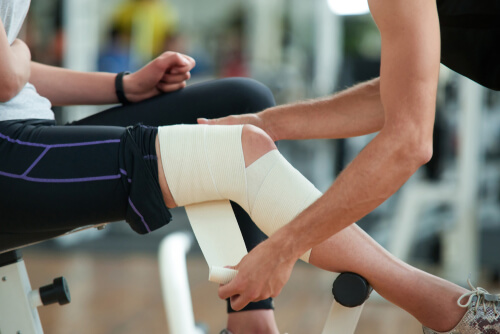 3. Wrapping the Hamstring
Even though putting the injury directly into a brace is one of the best ways to treat it, it's true that a lot of people aren't going to have the right kind of brace in the right size nearby when the injury happens. Nobody plans for an injury, and you don't go to the shopping mall in the morning thinking, "Oh, I'd better buy a brace because I'm pulling my hamstring at four tonight" because there's usually no way to predict what you'll injure or when. 
Wrapping the hamstring is the second-best thing you can do if you don't have a brace. The heat from the bandages can help the potential swelling to go down, and the fit of the bandages can make sure you're less likely to move (and further injure the hamstring.
Make sure that you don't wrap your injury any tighter than you have to. If it doesn't feel right, it's probably too tight.