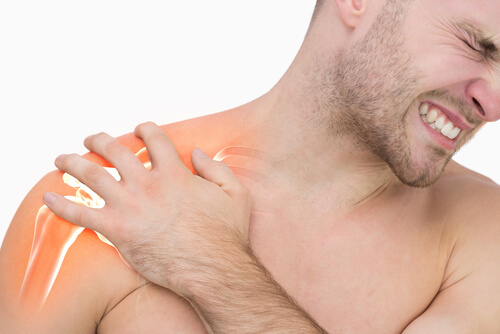 The shoulder is made up of three main bones. These are the humerus, scapula, and clavicle. Each of these bones works together in order to help you accomplish tasks using your shoulders. The labrum is the tissue that binds the scapula with the humerus.
When the labrum is torn it makes it difficult to function with the arm that is affected. There are many symptoms that can occur as a result of the labrum being torn. There are also many different things that can cause the labrum to tear. Repetitive shoulder motions, especially those that require your arms to lift above your head, may cause a labrum tear.
Athletes such as pitchers, rowers, and weightlifters often suffer from labrum tears. Most of the time a labrum tear will heal on its own with proper treatment in about four to six weeks. Here are 14 of the common symptoms of a labrum tear.
1. Grinding
One symptom that you may notice right away after tearing your labrum is a grinding sensation in your shoulder. The reason that you may notice this is because when the labrum tears it causes the scapula and humerus bones to contact each other, which in turn sounds like the shoulder is grinding each time you move it.
This is one of the reasons that early treatment is so important when it comes to a labrum tear. If you allow it to go on for too long, it can take longer for you to fully recover. In addition, the longer you go on without treatment, the more likely you are to cause even more damage to the shoulder, this includes the bones and the labrum. Your doctor will be able to put you on a proper treatment plan so that you will heal more quickly and be able to get back to your normal movements as soon as possible.