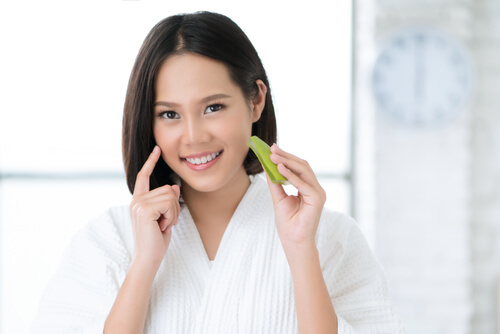 Dark circles on your eyes can prove to be a disaster, especially if you notice them right before something important like a date, work meeting, or photo opportunity. Yes, dark circles can even especially show up if you're taking selfies and it can feel like the camera is making it appear worse, so there are plenty of reasons why you would want to get rid of dark circles.
For some people, the dark circles under the eyes can be a genetic factor – but that doesn't mean that the condition can't be changed. For other people, dark circles under the eyes can be a sign of age and the skin losing elasticity over time, and they can be a sign of extreme tiredness: They most often show up after a hard day's work or a night's worth of working, studying or partying.
Here are 12 hints to easily clear away the dark circles under your eyes.
1. Aloe Vera
Aloe Vera is one of the most beneficial plants that we know about, and it could do wonders for your general health. People have been using Aloe Vera for its health benefits for thousands of years; to name just some uses, Aloe Vera is great for getting rid of the toxins that accumulate in the body, and Aloe Vera is also a great disinfectant – so great, in fact, that Alexander the Great would send soldiers into battle with Aloe Vera to dress their wounds before getting back to the war.
It's extremely high in vitamins, and higher in Vitamin C than other sources such as oranges. It's also available in many forms – so you don't have to worry about rubbing a plant under your eyes. Aloe Vera is available in both capsules and creams: Just apply some cream under your eyes the morning before for the best results.
If you need a quicker fix, try some of the other items on this list.