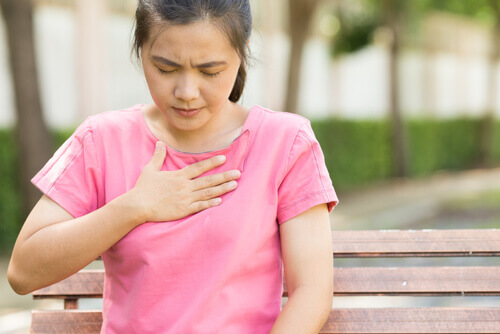 3. Chest and Throat Pain
As the disease progresses, and coughing symptoms intensify, infected individuals may encounter mild chest pains. The pain typically shoots across the chest from the inner to the outer area. Another common type of chest pain is a dull ache. This pain is a natural response to muscular distress experienced as a result of repetitive bouts of coughing.
Infected individuals entering the chronic phase of bronchitis may experience internal soreness in the chest. This pain in the lungs occurs due to excessive inflammation of the airways that leaves them feeling raw. As symptoms progress, the individual may experience feelings of strep throat due to increased swelling of the airways.
If the infected individual experiences severe chest pain, this may be a sign of a bacterial infection. Since bronchitis typically creates low-intensity pain, they will need to consult with a doctor to discover the cause. Check phlegm for any signs of blood. It may be that severe coughing burst blood vessels in the chest or damaged the bronchiole.