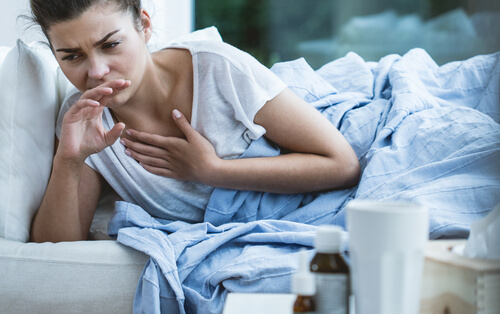 2. Phlegm and Mucus
In acute bronchitis infection its typical for infected individuals to cough up light phlegm with each coughing reflex. In the early stages, they may not cough up any mucus at all. A cough will have a barking sound that subsides to a dry cough after 48 to 72-hours.
If the disease progresses into the chronic stage, the cough will intensify, and phlegm becomes frequent in sputum cleared after each coughing fit. Severe inflammation of the bronchiole sets in during the chronic phase. The airways may become blocked with phlegm forcing a more violent cough with more significant amounts of mucus that begins to thicken.
Phlegm is typically translucent in color. However, chronic bronchitis may also present a bacterial infection of the airways. In such a case, the mucus begins to turn color from clear, to yellow, and then a dark-green color. With each stage of color change, the phlegm will increase in viscosity. If you notice a color difference, you'll need a course of antibiotics to clear the bacterial infection.