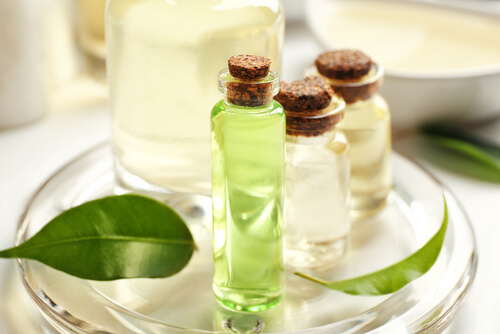 Have you ever brushed your teeth and looked at your toothbrush and saw that it was pink? That could mean that you have bleeding gums. Bleeding gums are a common problem in the United States, and it can have many different causes. For example, your gums are really sensitive and so the simple act of brushing them too hard with the wrong toothbrush could create small tears and cause your gums to bleed. Poor dental hygiene can also cause bleeding gums. The disease gingivitis has bleeding gums as one of its symptoms. But whatever the cause is, what you probably want to know is whether there is a solution. The fact is, there are some really great natural ways to treat bleeding gums. Let's look at 10 ways that you can treat your bleeding gums mostly using items that you'll find around your own home or are able to easily get at the grocery store.
1. Tea Tree Oil
Tea tree oil is one of the essential oils out there that really has some major health benefits. People use tea tree oil for a number of purposes. One of the major uses of tea tree oil is its antifungal properties. That means that over-the-counter medication is sold in major department stores for toenail fungus that have the main ingredient is tea tree oil. It is a very effective treatment for this.
But what many people do not realize is that tea tree oil also has a number of benefits for reducing pain and inflammation. Tea tree oil has anti-inflammatory properties. If you apply diluted tea tree oil to your gums, then you're definitely going to notice a reduction in swelling and inflammation – as well as a reduction in pain. One of the best ways to use tea tree oil is to combine it with about the same amount as coconut oil and then massage the solution onto your gums.