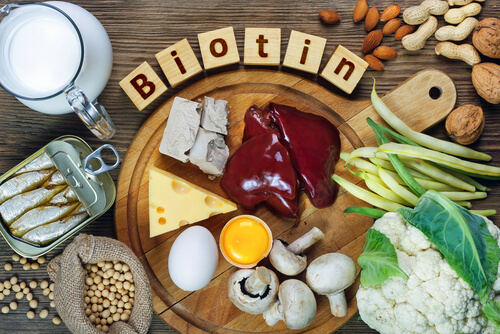 2. Biotin
As a B-vitamin, Biotin is one of the best vitamins for hair growth. Good sources of biotin include whole grains, fish, seafood, almonds, meat, and dark, leafy greens as well as many animal foods. Luckily, because vitamin B is so readily found in many foods, the incidences of hair loss due to a lack of this vitamin are very rare. However,
if you are vegan or vegetarian, you should consider taking a vitamin B supplement. This is due to the fact that eggs are a good source of biotin. They are also very easy to incorporate for those who are not on an eggless vegetarian or vegan diet.
Scientific studies have linked biotin deficiency to insufficient or interrupted hair growth. Various other B-vitamins also help red blood cell production. These carry nutrients and oxygen to the hair follicles and scalp, which is where hair growth originates. Eating foods rich in this vitamin will give hair follicles a boost.