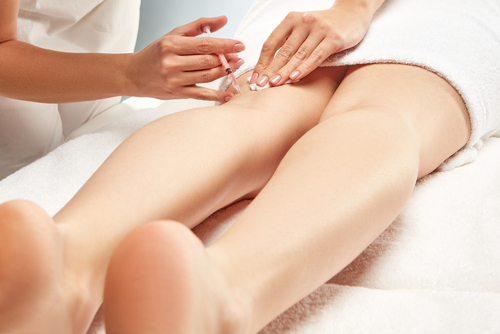 The veins are in charge of carrying oxygenated blood from peripheral tissues to the heart. The pressure in the veins is low, so the pumps of the heart move the blood forward. In order to prevent backflow, most veins are equipped with valves that will only allow the blood to flow towards the heart. When the valves become damaged, the veins may become enlarged and begin to bulge.
This results in varicose veins forming. Varicose veins are often just a cosmetic issue, but at times they can lead to a chronic condition called venous insufficiency. When this occurs it can be quite painful. There are natural remedies that can help cure these types of veins. However, if the veins become too swollen, surgery may become necessary. Sclerotherapy is another option for removing varicose veins. If you suffer from varicose veins, here are ten details that you need to know about sclerotherapy.
1. Is Sclerotherapy Safe?
The first thing that you need to know about sclerotherapy is what exactly the procedure consists of. It is not surgery, but rather a procedure that involves a chemical being injected into a vein in order to get rid of it. The sclerosant that is used will damage the lining of the blood vessel. This results in a clot that will block the blood from going through the vein. The vein will collapse and eventually be absorbed into the body.
This results in the flow of blood being directed through other veins that are healthier. Sclerotherapy is non-invasive and has proven to be a safe and effective way to treat varicose veins. It has been being used as a cosmetic treatment for varicose veins since the 1930s. However, as with any medical procedure, there are some risks that should be considered before partaking in this treatment.